Touring is at the very heart of what it means to fully experience the best of motorcycling. The feeling of ultimate freedom and open roads is what we value above all else when making the decision to get a touring motorbike of our own. Few bikes capture this spirit as well and as fully as the 2017 silver tinged Harley-Davidson Street Glide Ultra. We had the chance to give this beautiful beast of a machine a test run, and we know you're eager to find out how it stacks up against the competition, so here it goes;
1. The Milwaukee-Eight 107 engine
Being part of the one of the most venerable touring bike lineages in existence – the Street Glide line – the 2017 Ultra liquid-and-air cooled Milwaukee-Eight 107 engine represents their biggest design leap forward since 1999. The twin-cooled engine boasts impressive capabilities, such as 114 ft/lbs of torque at 3,250 rotations per minute, aided by the engine's quad-valve heart. The upgrades and changes, impressive as they are, extend beyond engine performance and trickle into a great many other aspects of the riding experience Harley Davidson has in store for us in 2017.
Read more on 11 Cool Facts About The Milwaukee-Eight Engine 
2. Assist-and-Clutch System
To regulate and guide the massive reserves of power available at your command, the Street Glide Ultra makes use of intuitively spaced gears to allow you the smoothest maneuvering through all of the most technically demanding twists and turns you might be of a mind to take on. The assist-and-clutch system makes going through the gears a joyous experience. The very kind of thing we've come to expect from our friends at Harley Davidson.
3. Toned Down Riding
The 2-1-2 exhaust configuration presented a point of contention among die-hard fans and purists of the Harley Davidson brand. They consistently demand that the company maintains the unfinished, unadorned spirit that made the bikes so iconic, and are loath to see any bit of that mystique sacrificed. The upgraded exhaust, combined with the rubber mounting of the engine block, mean that the engine noise is drastically reduced, while the slightly harsh decibels of the exhaust have been greatly toned down – it has some fans concerned. My advice is for all die-hard fans out there to give these tweaks a chance to prove themselves. The folks over at Harley know their business – and the Street Glide Ultra certainly doesn't seem to suffer with the changes.
4. Luxury on the Long Hauls
Comfort has always been the hallmark of any touring bike worthy of the name, and Harley-Davidson has never been remiss in this department. 29-inches of plush seating are guaranteed to accommodate anybody with the inclination to hit the road on the Ultra. The classic swept bars and back support for upright riding make it all the more suitable for going the distance.
5. Additional Specifications
A slimmed down primary cover, as well as a 55mm throttle redesign make the Street Glide Ultra satisfyingly more maneuverable than previously more heavyset platforms. Showa Dual Bending Valve forks with 4.6 inches of travel combined with adjustable spring-preload emulsion shocks in the rear make up the Harley's ample suspension kit. The 'Glide' part of the name isn't an empty boast.
A commanding 64-inch wheel base will have you feeling as though you are truly settled on the road, while more than ample storage space – 4.7 cubic feet to be precise – will have you more than set up for the long haul. The touch screen controlled entertainment and navigation is impressively intuitive, and the Boom! Box 6.5GT audio system does not disappoint. Braking is facilitated by dual 300mm rotors up front, backed up by a 300mm disk in the rear, ABS ready, of course.
About the Pricing of 2017 Harley-Davidson Street Glide Ultra
The 2017 Harley-Davidson Street Glide Ultra is expected to come at a manufacturer recommended retail price of $26,899 (Black quartz), $26,299 (Vivid black), $27,599 (Bonneville/Fathom blue), and $27,599 (Two-tone)
The bike is also available in the following colors;
Candy Cobalt/Indigo Ink
Sunburst Orange/Starfire Black
Starfire Black/Atomic Red
Dark Slate Candy/Arctic Black
Here's a quick view of 2017 Harley-Davidson Street Glide Ultra Specs-
Harley-Davidson Street Glide Ultra Engine:
Motor: Twin-Cooled Milwaukee-Eight 114
Bore x stroke: 4.016" x 4.500"
Displacement: 114 cubic inches (1868cc)
Maximum torque: 124 ft/lbs @ 3250 rpm
Valve trail: Single cam w/ pushrods and 4 vpc
Compression ratio: 10.5:1
Fuel system: Electronic Sequential Port Fuel Injection
Transmission: 6-speed Cruise Drive
Clutch: Hydraulic w/ Assist & Slip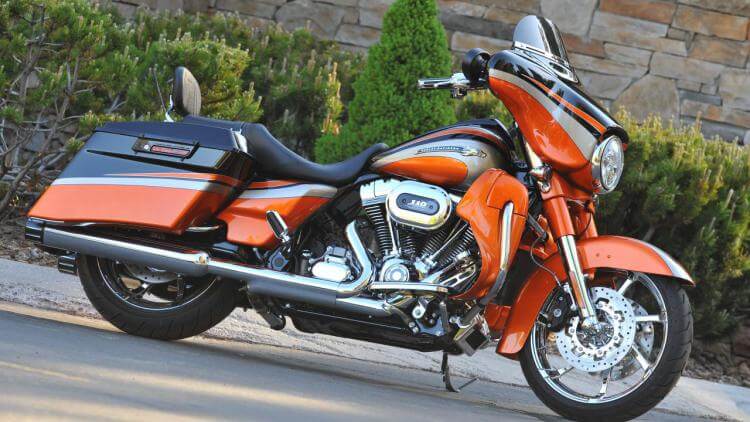 Harley-Davidson Street Glide Ultra Chassis:
Front suspension: Non-adjustable 49mm Showa Dual Bending Valve forks
Rear suspension: Spring-preload adjustable Premium emulsion shocks
Front tire: 130/80-19; Dunlop Harley-Davidson D408F
Rear tire: 180/55-18; Dunlop Harley-Davidson D407
Front brakes: 300mm full-floating rotors w/ 4-piston fixed calipers
Rear brake: 300mm fixed rotor w/ 4-piston fixed caliper.
Linked braking: Standard
ABS: Standard
Harley-Davidson Street Glide Ultra Dimensions and Capacities:
L x H x W: 96.7 x 38.2 x 53 inches
Wheelbase: 64 inches
Fork angle: 29.25 degrees
Rake: 26 degrees
Trail: 6.7 inches
Lean angle r/l: 32/31 degrees
Seat height laden/unladen: 26.3/27.2 inches
Curb weight: 867 pounds
Fuel capacity: 6 gallons
EPA estimated fuel consumption: 43 mpg
In all, the Harley Davidson CVO Street Glide Ultra upholds the very best traditions of the touring motorbike, while paying heed to and taking advantage of the technology available to make all that more satisfactory for lovers of the open road. What more could we really ask for?