Yamaha can always be trusted to push the envelope somewhat when it comes to motorcycle design. We love them for it. At the first ever Vietnam Motorcycle Show, they did it again, unveiling a radical-looking new scooter concept which they christened the 04GEN.
It comes as the latest installation of their RUN-WAY philosophy series, which stands for Revolutionary, Unique, and Noble. Its predecessors were the 01GEN in 2014, the 02GEN, and the 03GEN showcased in 2015.
High-tech elegance
The scooter's aluminum chassis components are visible through translucent plastic bodywork molded into the rear sides in a lattice-like design bracing. These exterior panels raise up on hinges on both sides to give a stunning visual effect – it gives the illusion of the 04GEN being elegantly winged. This mimicry of high-tech bird/insect wings represents a refreshing take on the plastic bodywork we are accustomed to seeing on scooters.
According to Yamaha, the effect they were looking to evoke was that of women, imbued with a dignified air of elegant grace of mind and body. The hint therein may be that the 04GEN's target market would be the fairer sex.
Smartphone Instrumentation?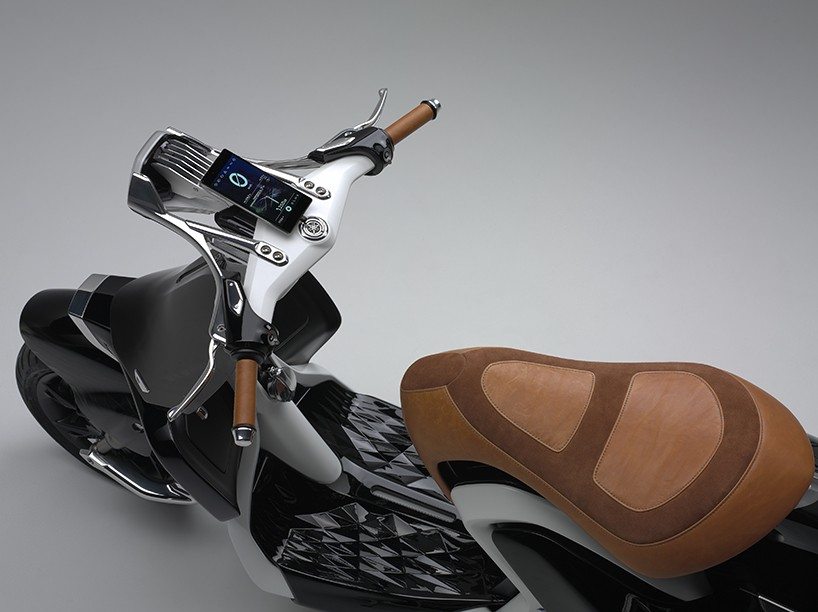 Interestingly enough, taking the place of the traditional fixed instrument panel it appears that some type of port is designed for the affixation of the rider's smartphone, whereby the screen would serve as the instrument readout panel. We're feeling this might prove problematic in inclement weather, though. It features a stylish brown leather seat and handlebar grips with a rear mounted LED stop light just below the single rider seat.
Yamaha hasn't as of yet released any specifications or technical details on the 04GEN. It might be that the showpiece's function was to display concept design features that are in the pipeline, from which elements here and there will filter through to productions down the line, but that's conjecture at this point. Should the 04GEN come into full production, though, it's guaranteed to be a landmark production – if only for its dazzling aesthetics.