The Alpinestars Valparaiso 2 Drystar jacket and pants are a fantastic set of adventure travel gear pieces. Together, they are ready for a no holds barred cross country ride. Here are just a few of their snazzy tried and tested features;
The Alpinestars Valparaiso 2 Drystar Jacket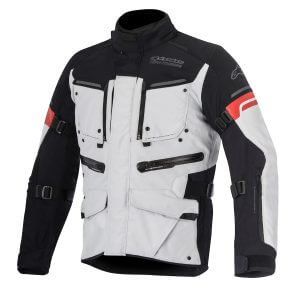 For an adventure touring jacket, the Alpinestars Valparaiso 2 also has impressive cargo capabilities. There is a built in fanny pack which is big enough to contain the two liners as well as a pair of gloves, which further goes to enhance the four-seasons-in -one-day functionality of the Valparaiso 2 jacket. There are two large lower mesh pockets on the interior. For the hottest weather, there is no shortage of venting and airflow on the Valparaiso 2.
In the back, there are twin 10-inch zippered vents, which easily exhausts the air that is collected by the chest and arm vents. The Valparaiso 2 jacket comes with a thin Drystar liner that keeps the rain at bay, as well as a new thinner thermal liner for warmth—both long-sleeved, of course. With the combination of the wind-stopping design of the exterior shell and Drystar liner, plus the heat-retention of the thermal liner, you should be warm down to freezing.
An incredible jacket deserves an equally incredible seat of pants, which is what Alpinestars provided with the Valparaiso 2 Drystar pants. Here's a quick view of the specs of the adventure touring jacket;
Sizes: S-4XL
Colors: Black/Gray/Red; Light Gray/Black/Red
Alpinestars Valparaiso 2 Jacket Price: $490 MSRP
The Alpinestars Valparaiso 2 Drystar Pants
Unlike the previous Valparaiso pants, the new Valparaiso 2 pants are much roomier below the lower leg. As expected, for added security and warmth, the Alpinestars Valparaiso 2 jacket and pants can be zipped together, turning them into an ad hoc single-piece suit.
The jacket's 2 big vents for the chest are found just above the knee of the pants, and has the same two choices, that is to snap or to tuck to hold. Roomy and comfortable, Alpinestars gives you a couple of options for fit on the Valparaiso 2 pants.
Cargo capacity isn't particularly roomy, but Alpinestars assumes that you are wearing the jacket and you are on the bike with bags. Here's a quikc view of the specs;
Sizes: S-4XL
Colors: Black/Gray; Light Gray/Black
Alpinestars Valparaiso 2 Pants Price: $330 MSRP